David Lerner Associates Deems Dennis DeYoung Concert a Huge Success
Core Facts
2012-08-02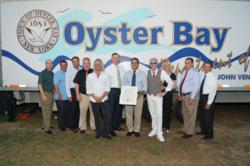 Oyster Bay, NY (7/30/12)- David Lerner Associates, a financial investment company headquartered in Syosset, NY, announces legendary rock musician Dennis DeYoung's recent concert a huge success. DeYoung, famous for his work as a founding member and lead singer of the rock band Styx, held his concert at John Burns Park in Massapequa on Friday, July 27. It was the first of three 'Music Under the Stars' events that David Lerner Associates is sponsoring in partnership with the Town of Oyster Bay.
A crowd of thousands turned out to enjoy Dennis DeYoung perform a spectacular two-hour set of songs including 'Lady,' 'Come Sail Away,' 'Babe' and 'Mr. Roboto.' Before the concert began, Syosset Branch Manager Anthony Meere accepted an honorary citation from the Town of Oyster Bay on behalf of David Lerner Associates.
"As part of the Town of Oyster Bay community, David Lerner Associates is proud to support these great concerts each summer," said Mr. Meere. "We were extremely pleased to see such a large crowd dancing, singing, reminiscing and thoroughly enjoying themselves. Congratulations to the Town of Oyster Bay for hosting such a successful event."
"I enjoyed the warm support once again from the residents of Oyster Bay on a beautiful evening under the stars. It was a pleasure to perform to such a great audience," said Dennis DeYoung.
The Dennis DeYoung concert was the first of three events in the 'Music Under the Stars' concert series sponsored by David Lerner Asssociates. On Wednesday, August 1, The Time Machine will perform at Syosset/Woodbury Park. The Time Machine plays a mix of Motown, rock, pop, and disco that will appeal to a multi-generational audience. The third concert, billed as 'An Evening of Doo-Wop,' will be held on Friday, August 3 at Theodore Roosevelt Park in Oyster Bay. Legendary Doo-Wop groups The Blue Notes and The Duprees will perform. All shows begin at 8:00 p.m.
Material contained in this article is provided for information purposes only and is not intended to be used in connection with the evaluation of any investments offered by David Lerner Associates,Inc. (DLA). This material does not constitute an offer or recommendation to buy or sell securities and should not be considering in connection with the purchase or sale of securities. Member FINRA & SIPC.
Tags:
About
Founded in 1976, David Lerner Associates (DLA) is a privately-held investment company. DLA's headquarters are in Syosset, New York and has branch offices in Westport, CT; Boca Raton, FL; Teaneck, NJ; White Plains, NY; and Princeton, NJ.