David Lerner Associates Announces the Sale of Renowned Turner Watercolor
Core Facts
2013-03-21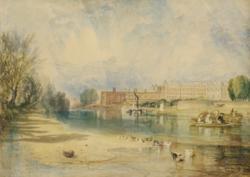 David Lerner Associates, a privately-held securities broker/dealer based in Syosset, NY, is pleased to announce the completed sale of Joseph Mallord William Turner's watercolor 'Hampton Court Palace' (1829) for $1,666,000.00 by The Great Art Fund III, LLC for which David Lerner Associates was the sole placement agent.
"We are very pleased to have completed a successful sale of such an extraordinary painting," said Martin Walcoe, Executive Vice President of Sales at David Lerner Associates. "This is an extremely valuable piece, and we are proud to have a place within the history of these world-renowned works of art."
The Turner watercolor was sold in a private sale arranged by Sotheby's, at a gain of $497,677 over its original purchase price of $1,168,323.* It is the second piece to be resold among the five acquired by The Great Art Fund III, LLC, which was created in 2006. In 2009, the Fund sold the sculpture 'Working Model for Reclining Figure' (1945) by Henry Moore for $825,000, realizing a gain of $68,664.* The Fund originally purchased the five world-renowned pieces using the net proceeds from the sale of 198 member units at $25,000 per unit.
Turner, now regarded as one of the masters of British watercolor landscapes, painted 'Hampton Court Palace' to be engraved for Charles Heath's 'Picturesque Views in England and Wales' (1827-38), a series of highly complex and allusive topographical watercolors for engraving. The painting was exhibited at the Egyptian Hall, Piccadilly in 1829, and then changed hands between several private collectors before being sold at Christie's in 1859. 'Hampton Court' remained in the same family collection for 130 years until surfacing in Europe in 1990.
*The sale of this painting/sculpture at a profit does not necessarily indicate a similar result would occur upon the sale of other art in the fund's portfolio.
Material contained in this article is provided for information purposes only and is not intended to be used in connection with the evaluation of any investments offered by David Lerner Associates,Inc. (DLA). This material does not constitute an offer or recommendation to buy or sell securities and should not be considering in connection with the purchase or sale of securities. Member FINRA & SIPC.
Tags:
Images
Turner Water Color
Description:
Turner water color Hampton Court Palace
Source:
http://farm9.staticflickr.com/8517/8576989857_097bcd32b7.jpg
About
Founded in 1976, David Lerner Associates (DLA) is a privately-held broker/dealer. DLA headquarters are in Syosset, New York with branch offices in Westport, CT; Boca Raton, FL; Teaneck and Princeton, NJ; and White Plains, NY. For more information contact David Lerner Associates 1 877 367 5960 http://www.davidlerner.com